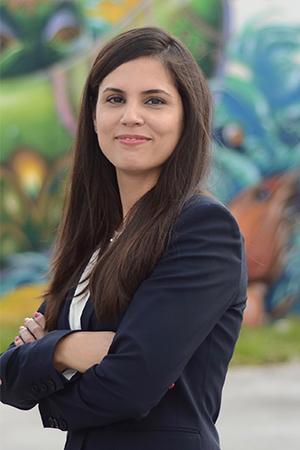 Founding Partner
305-384-6705
Anisley Tarragona is a founding partner of BT Law Group, PLLC. Prior to starting BT Law, Ms. Tarragona worked in the Miami office of a national labor and employment law firm where she represented management exclusively. Ms. Tarragona, who was born and raised in Cuba, is fluent in Spanish.
Primary Focus & Experience
Ms. Tarragona's practice focuses on workplace and business disputes. In her employment practice, Ms. Tarragona handles a wide variety of issues, including claims arising under Title VII of the Civil Rights Act of 1964 and the Florida Civil Rights Act, the Americans with Disabilities Act, the Fair Labor Standards Act, the Family and Medical Leave Act, and other federal and state employment laws. She also has experience in drafting employment agreements and litigating claims arising out of the breach of certain clauses in those agreements, including non-compete and non-solicitation clauses.
Ms. Tarragona also has significant experience in handling business disputes, ranging from breach of contract claims to violations of Section 10b of the Securities and Exchange Act of 1934. In defending a group action against a hedge fund administrator, Ms. Tarragona participated in obtaining monetary sanctions and an adverse inference instruction against a group of investor plaintiffs who failed to preserve electronic evidence through institution of litigation hold. See Pension Comm. of Univ. of Montreal Pension Plan v. Banc of Am. Secs., LLC, 685 F. Supp. 2d 456 (S.D.N.Y. 2010).
During law school, Ms. Tarragona served as a Judicial Intern to the Honorable Judge Adalberto Jordan as well as to the Honorable Magistrate Judge Chris M. McAliley at the United States District Court for the Southern District of Florida. During this time, she was also an Associate Editor on the University of Miami International and Comparative Law Review.
Recent Significant Accomplishments
Delivered defense verdict after two-week jury trial (2019): Obtained a defense verdict on claims of age discrimination and retaliation in multi-million-dollar suit against a Fortune 500 company after having obtained a directed verdict on claims of defamation against the company and an executive.
Obtained summary judgment in a case involving claims of sexual harassment and retaliation under the FCRA as well as off-the-clock claims under the FLSA. Alvino v. Equinox Holdings, Inc., No. 14-80361-CIV-COHN/SELTZER, 2014 U.S. Dist. LEXIS 161102 (S.D. Fla. Nov. 17, 2014).
Dismissal with prejudice (2014): Obtained dismissal with prejudice of common law claims of negligence and intentional infliction of emotional distress in federal court.
Obtained summary judgment in a case involving disparate treatment and disparate impact claims of race and age discrimination under the ADEA, Title VII, and the FCRA as well as a claim for retaliation under Title VII and the FCRA arising out of a Reduction-in-Force ("RIF"). Fuller v. Edwin B. Stimpson Co. Inc., No. 11-61574-CIV-ROSENBAUM, 2014 U.S. App. LEXIS 137909 (S.D. Fla. May 21, 2014); Fuller v. Edwin B. Stimpson Co. Inc., 971 F. Supp. 2d 1146 (S.D. Fla. 2013).
Obtained favorable opinion from the U.S. Court of Appeals for the Eleventh Circuit affirming above grant of summary judgment. Fuller v. Edwin B. Stimpson Co. Inc., No. 14-12479, 598 Fed. App'x. 652 (11th Cir. 2015), cert. denied, 136 S. Ct. 177, 2015 U.S. LEXIS 6347 (U.S. Oct. 5, 2015).
Recognition & Accomplishments
Ms. Tarragona has been recognized as a "Rising Star" by Florida Super Lawyers from 2013-2018.
EDUCATION
University of Miami School of Law
J.D., 2007
University of Central Florida
B.S.B.A., 2004
ADMISSIONS
U.S. Court of Appeals, 11th Circuit
U.S. District Court, Southern District of Florida
U.S. District Court, Middle District of Florida
Florida
BAR & PROFESSIONAL ASSOCIATION MEMBERSHIPS
Cuban-American Bar Association
Dade County Bar Association
LANGUAGES